Best tennis shoes
It has been said that it is worth investing money in two things: a comfy bed and a comfy pair of shoes, because when you're not in one you'll be in the other. The same maxim can certainly be attributed to tennis shoes. Tennis players can spend time choosing the perfect racquet, but how many actually play in the appropriate footwear?
Whether you are a weekend warrior or a daily player, the importance of the correct tennis footwear on court is often underestimated. There is a huge choice available, all offering different degrees of comfort, stability, breathability and durability. The best tennis shoe for you will depend on the surface you play on and your style of play.  Some may appear to be quite pricey but when you consider just how much you put your feet through on court then why not provide them with the best protection possible? Regular trainers do not cut it on court. They lack the support around the ankles and the durability in the soles meaning they will wear out quickly. Make an investment in your feet and your game: buy a pair of tennis shoes.
1. Adidas Barricade Boost 2017: £83.96, Adidas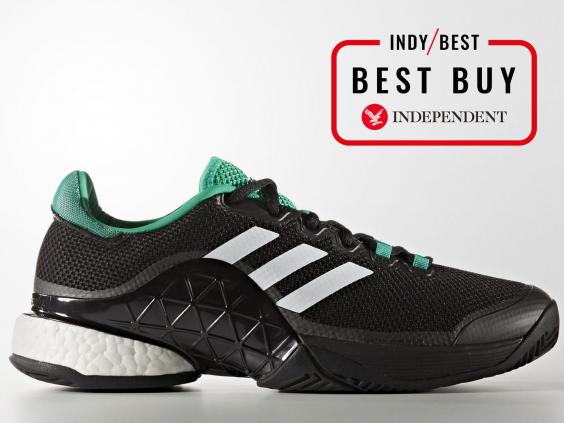 The Barricade Boost 2017 is almost unrecognizable from its 2016 predecessor as Adidas has reinvented their already winning formula. Barricades have become the benchmark for stability and support on the tennis tour. The upper is a softer, more breathable material with the enhanced protection in the vulnerable areas. For support, the Barricade chassis is second to none. The ankle collar features memory foam technology, which I felt really locked my feet into the shoes. The sole gave me great traction even on wet courts. These shoes would suit aggressive players wanting premium support and stability.
2. Nike Court Lunar Ballistec 1.5 Tennis Shoes: £104, Pro Direct Tennis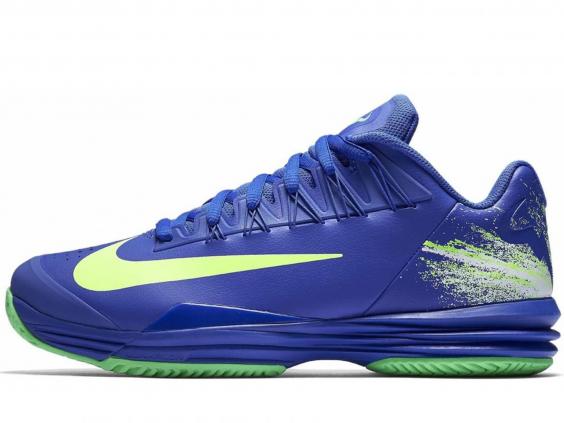 This is the choice of Rafael Nadal, the 15-time Grand Slam Champion. Nike has pioneered Flywire cables which are built into the upper to hold the foot in place. Break-in time for these shoes is minimal. After a few hours they were good to go and the comfort definitely improved the longer I wore them. The ankle padding comes up quite high, especially when the laces were tied tight. Unfortunately at times they did loosen which reduced the support around the foot. Rafa fans will definitely buy these shoes, others will chose them for their support.
3. Wilson Rush Pro 2.5 Tennis Shoes: £100, Stringers World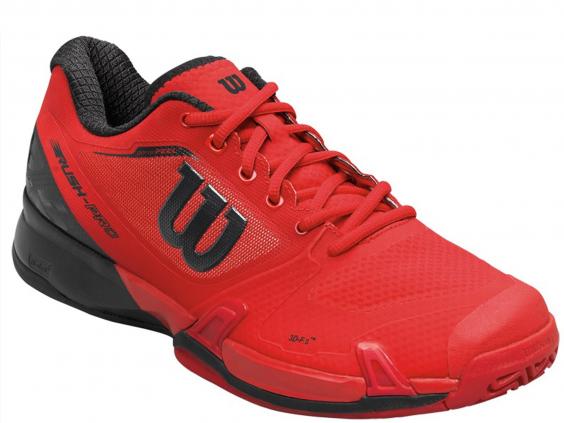 Wilson know a thing or two about making tennis rackets but they have also been quietly producing top quality tennis shoes for some time.  The Rush Pro 2.5 model is a compact and extremely comfortable shoe. The ortholite insoles function to wick moisture away from the feet and prevent smelly feet and the ball of my foot was very comfy as I landed after my serve or I charged to the net. The upper is lightweight, breathable and soft with additional extra padding around the ankle area.  They provided good ankle support and a natural flex.  A superb option for any player.
4. New Balance 996 V3 Tennis Shoes: £95, New Balance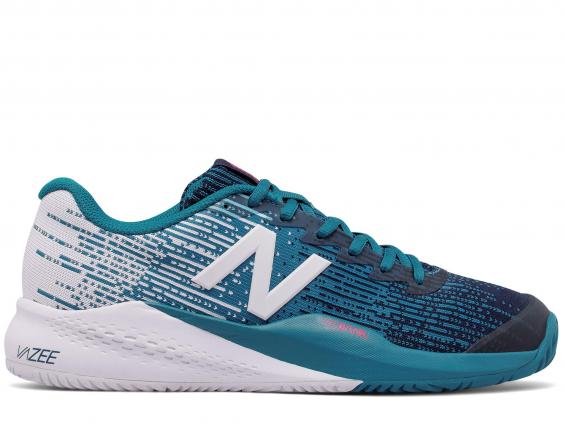 Following on from last year's 996 V2, New Balance's latest flag ship offering is the 996 V3. Seen on the likes of Wimbledon mixed-doubles winner Heather Watson, the V3 is made from a knit nylon upper which is reinforced in all the high wearing areas.  Ndurance technology around the toe adds to the comfort and also helps with breathability keeping feet cool. There is noticeably lots of padding around the heel area which is soft but supportive. The low-profile flat sole really provides great traction and stability.  With a new head-turning design and cool colour schemes for men and women, New Balance is on to a winner.
5. Slazenger 1881 Grass Court Tennis Shoes: £49.99, Sports Direct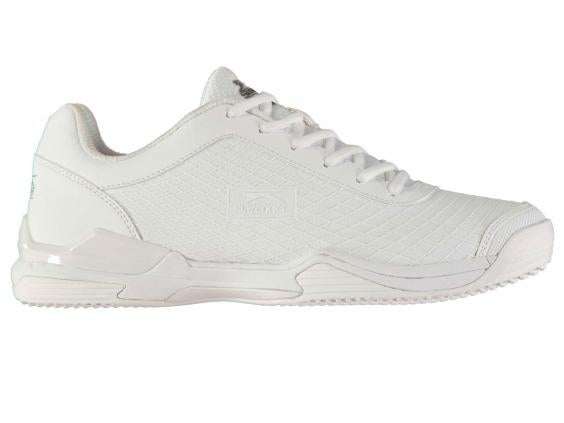 Planning to play on the glorious grass this summer? Then these could well be for you. These grass court shoes by Slazenger have a padded ankle collar and tongue for comfort. I found the D30 lite sole absorbed shock sufficiently even when stopping suddenly or slam dunking an overhead smash. Slazenger has produced a great pair of shoes that are well padded and comfortable at an attractive price, but a word of advice: the flat pimpled sole should only be used on grass and artificial grass.
6. Lotto Stratosphere II Speed Tennis Shoes: £87.90, Tennis Point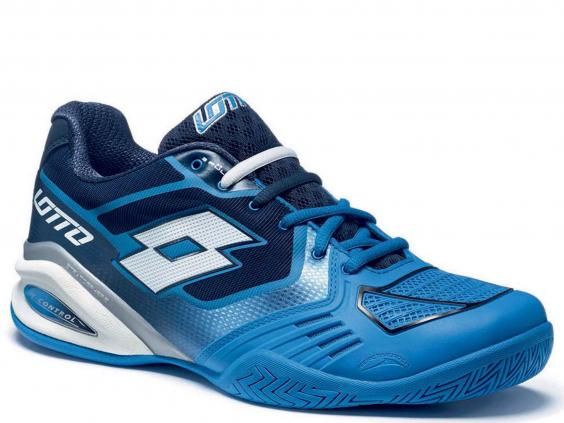 These shoes certainly win the best looking prize for 2017. But if you go beneath the surface you find a really clever shoe that has covered all the bases, especially comfort and support. These come with two customisable ortholite insoles in the box which boast sweat wicking technology, coupled with fit form ankle padding. They also boast a durable all-court sole, too.  Bonus points for the different colour laces so you can add your own touch to the look.
7. Head Revolt Pro 2.0 Tennis Shoes: £80, Head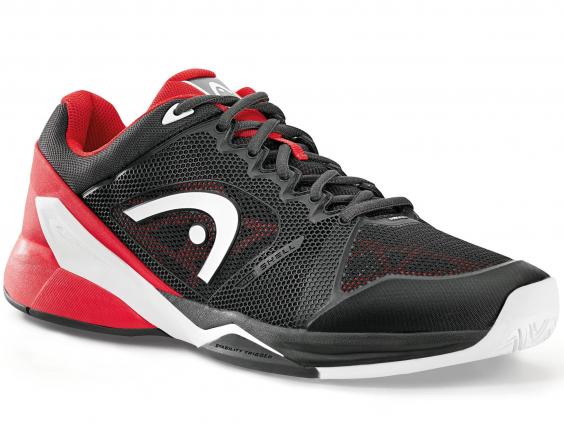 The latest iteration of the Revolt Pro offers stability and durability.  The second generation have a redesigned seamless upper, which is extremely breathable and provides good comfort. These shoes are much lighter than the original but are equally stable and comfortable. Even on a wet day in atrocious conditions, these shoes provided great traction on court. I really loved the cool red and black colours scheme too. With several sole options available, this really is a strong package.
8. Asics Gel Resolution 7 Tennis Shoes: £91.99, Tennis Nuts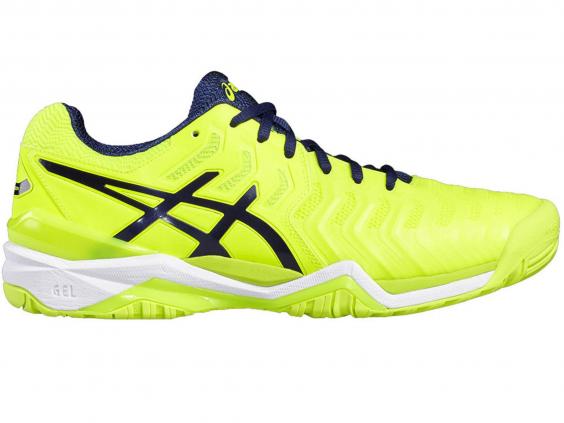 The strong and sturdy Gel Resolution 7 provides premium stability. Of all the pairs tested, I found these shoes had the longest break-in time, but once broken in they performed really well. My feet were nicely held in place and did not move around even when flat out chasing a ball. With a signature gel midsole the balls of my feet and heels felt very comfortable too. These are not a lightweight pair of shoes but the level of support, comfort and durability of the sole make them a great choice for aggressive players.
9. K-Swiss Knitshot Tennis Shoes: £120, K Swiss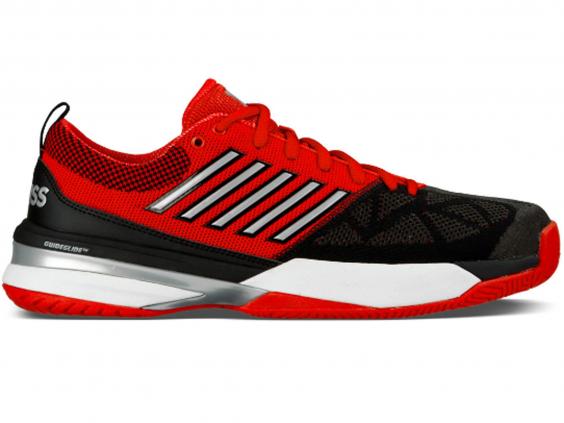 These shoes proved to be the most comfortable of all those tested for my feet. The Knitshot are a wide fit but the insoles, padded tongue and heel cup provide premium cushioning. The uppers are made of soft flexible knitshot material, which is like a sock on the outside and very much in vogue this year, but perhaps did not provide as much stability as I would have liked.  The sole provided good durability but my toe did show some wear over time. If you prioritise comfort, then try the Knitshot.
10. Yonex Eclipsion Tennis Shoes: £96.99, Yonex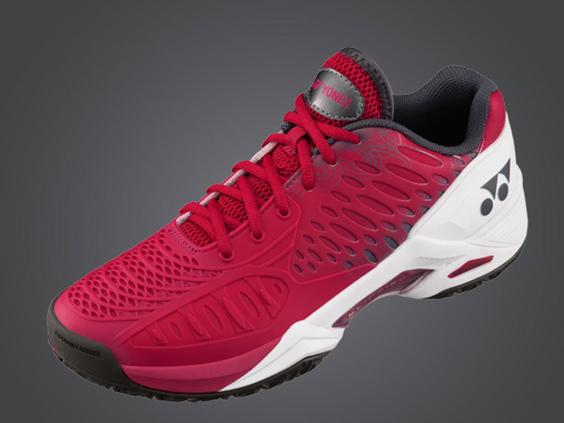 The Eclipsion tennis shoe was a favourite when I tested it last year, and once again Yonex has managed to make a great shoe even better. Unlike other brands that have switched to a knit upper, Yonex have kept faith with the original rubberized upper.  Nevertheless, the comfort and breathability of these shoes is very good. The support and durability are also impressive but these aren't bulky and they will help with fast foot-work on court.