Karl Lagerfeld's Famous Friends Announce The White Shirt Project In Honour Of The Iconic Designer
If you ask me what I'd most like to have invented in fashion, I'd say the white shirt. For me, the white shirt is the basis of everything. Everything else comes after," Karl Lagerfeld  once said. In honour of the legendary designer, who died five months ago and left an insurmountable hole in the industry, a handful of his friends has launched "A Tribute to Karl: The White Shirt Project".
Among the contributors reimagining Lagerfeld's signature shirting – which he purchased from Hilditch & Key owing to its crisp high collars and pristine finish – are Kate Moss, Cara Delevingne, Diane Kruger, Amber Valletta, Tommy Hilfiger, Alessandro Michele, Takashi Murakami and Carine Roitfeld. The latter will oversee the project, which will benefit the French medical research charity Sauver la Vie, in her role as style advisor at Lagerfeld's eponymous brand.
"The participants in this tribute are all people who Karl knew, who he felt connected to, or who inspired him," Pier Paolo Righi, chief executive officer of Karl Lagerfeld, told WWD . "After Karl's passing, so many people wanted to share their admiration for Karl and express their emotions."
The shirts, which Righi said were "a very unique and intimate way of relating back to Karl", will be displayed during Paris Fashion Week in September at Karl Lagerfeld's headquarters on the Rue Saint-Guillaume. Each of the seven designs will be replicated 77 times and sold for €777 (£700) in accordance with Lagerfeld's favourite number, seven. All proceeds will go to Sauver la Vie's work at Paris Descartes University, which the designer supported for several years.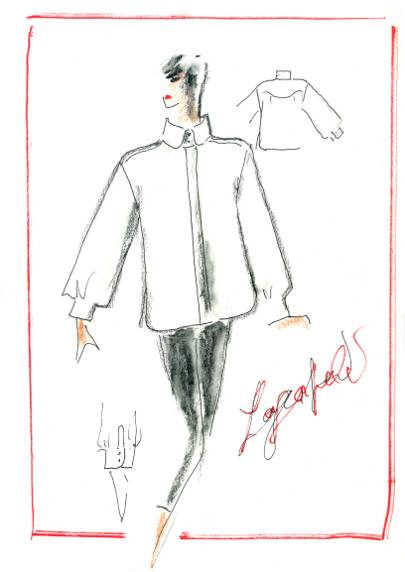 The news comes less than one month after Chanel and Fendi staged a memorial for Lagerfeld, who helmed both brands creatively for decades, entitled "Karl For Ever" during Paris Men's Fashion Week. Staged at the Grand Palais – the iconic Paris venue that was transformed into the fantastical settings of his Chanel shows since 2005 – it was an evening of lively, nuanced and varied interviews and performances  on both the gigantic screens mounted on the walls and on stage.