Meghan Leads The Royal Attendees At The Commonwealth Day Service In Victoria Beckham
Commonwealth Day has seen the Duchess of Sussex  wear two fresh-off-the-catwalk looks to complete her public-facing duties. An Erdem autumn/winter 2019 coat for Canada House event celebrating the diverse community of young Canadians in the UK was followed by a  Victoria Beckham ensemble of the same season for the annual Westminster Abbey service.
While the Duchess of Cambridge  wore a post box-red Catherine Walker dress coat (one that Kate style sleuths will recognise from the 2014 royal tour of New Zeeland), and the Queen and the Duchess of Cornwall opt for similar colour-block coats and hats, Meghan stood out as the modern member of the royal family – one with her finger so firmly on the pulse that she knew what was on the runway mere weeks ago.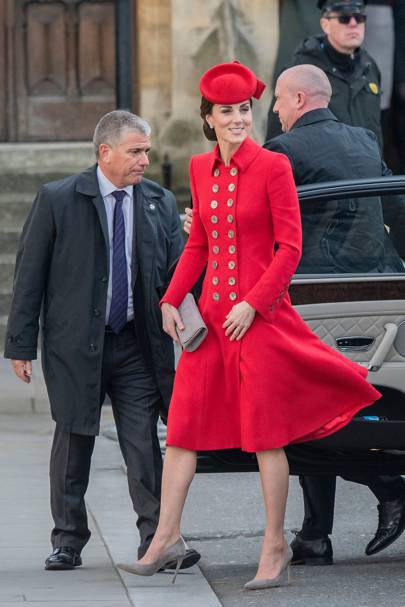 Accessorised with a cream coat and hat, plus emerald satin pumps and clutch, Meghan, who was made vice president of the Queen's Commonwealth Trust on International Women's Day, bore resemblance to the look she wore for the 2018 service – a time when Amanda Wakeley was still one of her favoured designers.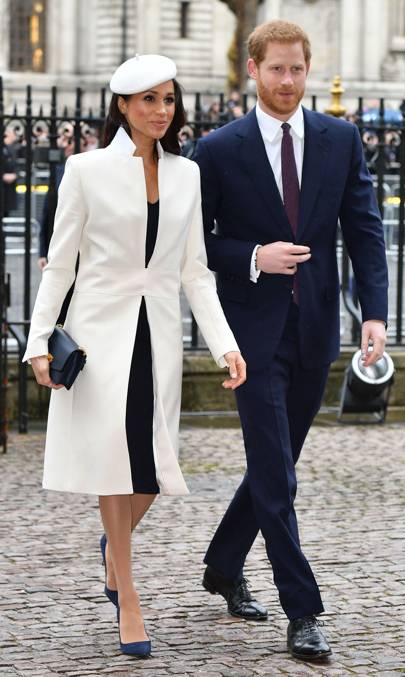 Her penchant for pale and interesting outerwear has not waned, however, and today's thoughtful ensemble shows that the Duchess has hit her stride – not just sartorially, but in her various roles as a member of the royal family. The Commonwealth Day service, with its eclectic running order of testimonies, performances and readings, was a celebration of the culturally diverse and widely dispersed family of nations – one that Meghan has been championing since the day she became the Duchess of Sussex, with the flora of the Commonwealth stitched into the very fabric of her veil.